This letter was written in 1934 by Marian (Henry) Ransom to her cousin Olive Violet (Henry) LaMonte.
We don't know much about Marian, but web searches suggest she was born in Georgia in 1895, married Rowland Wyatt Ransom, and died in 1968 and is buried in Summerville, GA.
Olive Violet recorded some biographical details of her own family on the back of the letter.
The letter was passed down to her daughter Jane, and then to her grandson George Jr.
---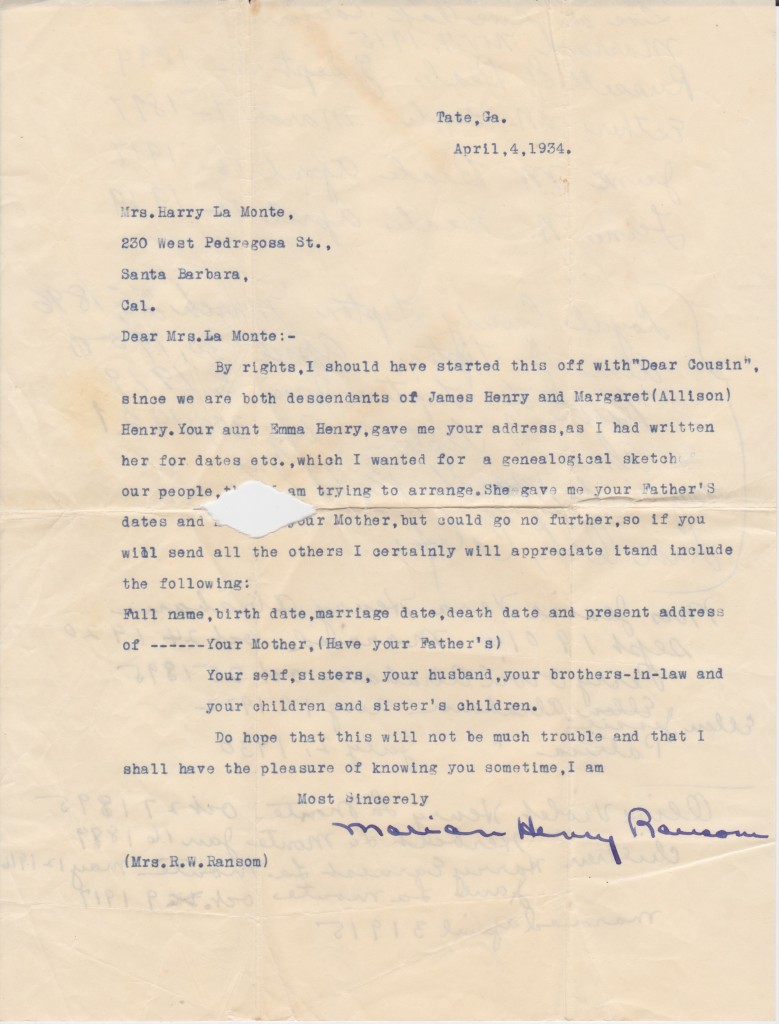 Transcription:
Tate, Ga.
April, 4, 1934.
Mrs.Harry La Monte,
230 West Pedregosa St.,
Santa Barbara,
Cal.
Dear Mrs.La Monte:-
By rights, I should have started this off with "Dear Cousin", since we are both descendants of James Henry and Margaret (Allison) Henry. Your aunt Emma Henry, gave me your address, as I had written her for dates etc., which I wanted for a genealogical sketch our people, […] I am trying to arrange. She gave me your Father's dates and […] your Mother, but could go not further, so if you will send all the others I certainly will appreciate it and include the following:
Full name, birth date, marriage date, death date and present address
of —– Your Mother, (Have your Father's)
Your self, sisters, your husband, your brothers-in-law and
your children and sisters' children.
Do hope that this will not be much trouble and that I shall have the pleasure of knowing you sometimes, I am
Most Sincerely
Marian Henry Ransom
(Mrs. R.W. Ransom)