Giovanni Batista Cavalletto, commonly known as G.B., was born in Visignano, Italy, in 1875. 
In 1892, at the age of sixteen, he accompanied his older brother Michele and emigrated from Vesignano to California. They travelled by steamship to New York City, arriving shortly after the opening of Ellis Island. To save money, rather than riding a railroad across the continent, they took a ship south to Panama, walked across to the Pacific coast, and took another ship north to California. 
Here's a photo of him as a young man: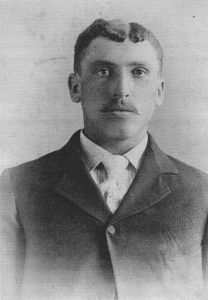 Wives and Children
He married Madalena Bernasconi, but later divorced.
In 1903, he married Catharina Pagliotti (sometimes written Katherine).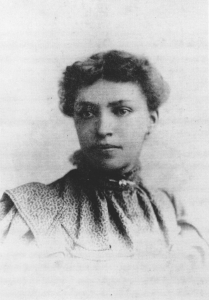 They had four children, one of whom died in infancy:
Laura A. Cavalletto (b. 7/3/1904, d. 12/18/1968)
Joseph Cavalletto (d. ?/?/1905)
Louis Dominic Cavalletto (b. 9/23/1906, d. 6/25/1985)
George Alexander Cavalletto (b. 1/14/1913, d. 6/25/2000).
The Home Place
In 1912, G.B. bought a farm in Stow Canyon, Goleta, which was known in the family as "the Home Place". Their son George was born here the following year.

Its location was recorded by the California Geodetic Survey in 1934 when they placed marker EW3817 on the farm:
2.7 MI NW FROM GOLETA. 1.3 MILES WEST ALONG THE SOUTHERN PACIFIC CO. RAILROAD FROM THE STATION AT GOLETA, SANTA BARBARA COUNTY, THENCE 0.6 MILE NORTH ALONG LA PATERA LANE, THENCE 0.6 MILE EAST ALONG STOW CANYON ROAD TO THE G.B. CAVALLETTO RANCH, AND THENCE 0.2 MILE ALONG THE ENTRANCE ROAD, 65 FEET NORTHWEST OF THE RANCH HOUSE, AT THE HELP HOUSE, AND 1.5 FEET EAST AND 10 FEET NORTH OF THE SOUTHEAST CORNER OF THE BUILDING. A STANDARD DISK, STAMPED F 324 1934 AND SET IN THE TOP OF A CONCRETE POST.
However, when the National Geodetic Survey returned to the site in 1973, they were unable to locate this marker, noting for the adjacent marker EW3818:
AREA SUBJECT TO HEAVY HOUSING COSTRUCTION SINCE 1960, AND THE G.B. CAVELLETTO RANCH IS GONE.
In the current day (Google Maps satellite view), this area is a densely packed neighborhood of single-family houses, just south of the Goleta Valley Jr. High School and east of San Pedro Creek.
Trip To Vesignano, 1920
In 1920, at age 45, G.B. and Catharina returned to Vesignano for an extended visit. They brought their six-year old son George, but left sixteen-year old Laura and fourteen-year old Louis Dominic at home in Goleta. Before leaving, they took this family photograph, which shows the haircut little George had given himself the day before.
They travelled by steamship, first to France, and then to Italy. Their return to the U.S. later that year is logged in the Ellis Island records.
Later Years
These photos show G.B. in his later years:
And here's another picture of Catherina in these areas: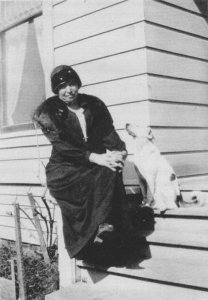 G.B.'s grandchildren called him "Grando".
George's son George Jr. remembers G.B. as being distinctly Italian, and eating foreign-seeming foods, in contrast to George's fully-Americanized household.