After receiving an April 4, 1934 letter from her southern cousin requesting biographical details, Olive Violet began to draft her response, using the back of the letter to record the names and birth dates of the members of her household, as well as those of her sisters and first cousin.
Two other slips of paper with the same information accompanied this list, folded up in an envelope from a local hotel. The letter was passed down to her daughter Jane, and then to her grandson George Jr.
---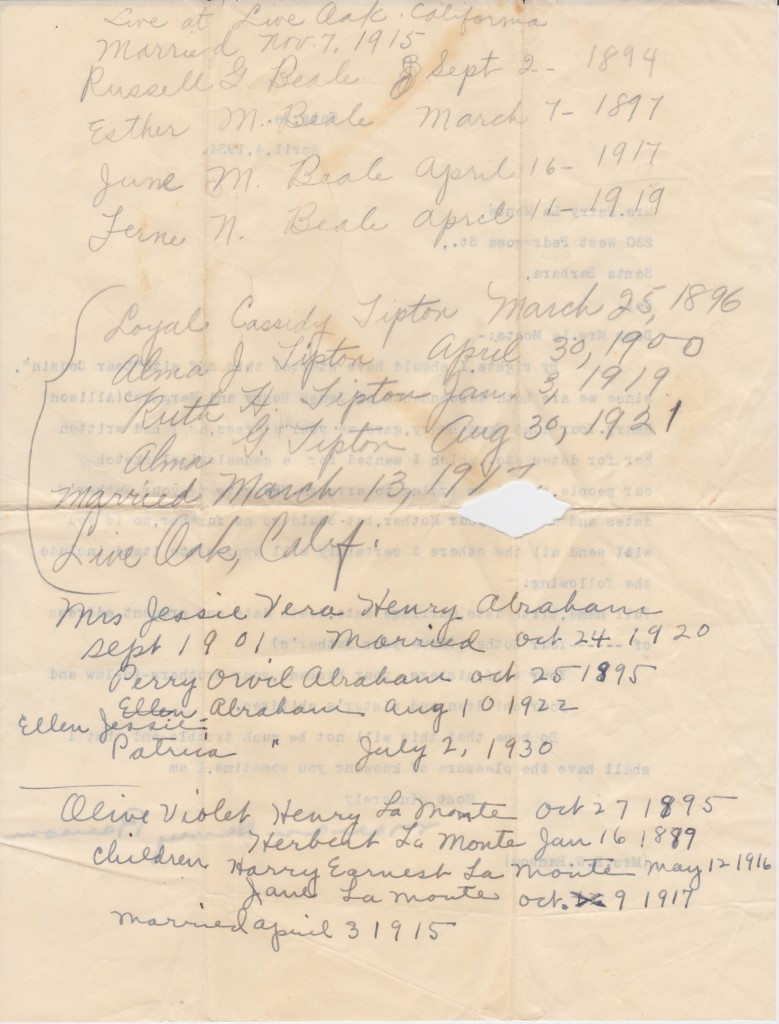 ---
Handwritten Reverse Side Of Letter
Live at Live Oak, California
Married Nov. 7, 1915
Russell G. Beale  Sept 2, 1894
Esther M. Beale  March 7, 1897
June M. Beale   April 16, 1917
Ferne M. Beale  April 11, 1919
Loyal Cassidy Lipton  March 25, 1896
Alma J. Lipton     April 30, 1900
Ruth H. Lipton   Jan. 3, 1919
Alma G. Lipton   Aug 30, 1921
Married March 13, 1917
Live Oak, Calif.
Mrs Jessie Vera Henry Abraham
Sept 1901     Married Oct 24 1920
Perry Orvil Abraham   Oct 25 1895
Ellen Jessie Abraham  Aug 10 1922
Patricia Abraham  July 2, 1930
Olive Violet Henry La Monte  Oct 27 1895
Herbert La Monte   Jan 16 1889
Children Harry Earnest La Monte  May 12 1916
Jane La Monte  Oct. 9 1917
Married April 3 1915
List A
Mrs Laura Jane (Luther) Henry
Jan. 16, 1872 birth
Nov. 22, 1894 marriage
Jan  14, 1917 Death
Mrs Olive Violet (Henry) LaMonte
Oct 27, 1895 Birth
April 3 1915 mar.
Husband Herbert LaMonte
Jan 16, 1889 Birth
April 3, 1913 mar.
Children Harry Earnest La Monte
May 12, 1915
Jane La Monte
Oct 9, 1917
List B
Mrs Jessie Vera (Henry) Abraham
Sept 10, 1901 Birth
Oct 23, 1920 Mar.
Perry Orvil Abraham
Oct 25, 1894 Birth
Oct 23, 1920 Mar.
Girls: Ellen Jessie Abraham
Aug 10, 1922
Patricia Jane Abraham
July 2, 1930
---
Those biographical details are presented in a family tree format below: